Cart
News
Articles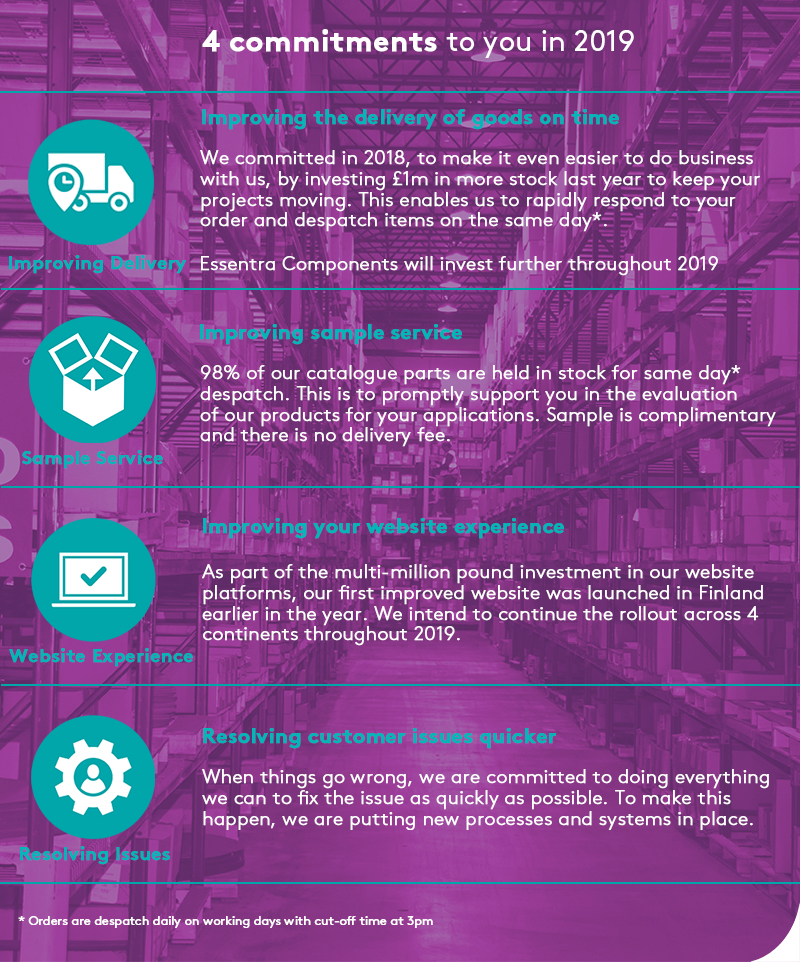 At the end of last year, we conducted our annual customer survey to give you a chance to tell us what you think about our product range, our service delivery and even our websites. 

Overall, we are pleased to announce customer satisfaction has improved compared to 2017. In fact, by participating in last year's survey you helped to raise over £12,000 for charity, which we have donated directly to UNICEF. 

We know there is still more we can do. Your feedback has highlighted 4 priority areas, which we are committed to investing in further to improve our service. 

We are committing to four priorities, 

• Improving delivery of goods on time 

• Improving sample service

• Improving your website experience

• Resolving customer issues quicker

Finally, your feedback is important to us. We aim to put you first and make dealing with us as hassle free as possible.
Modern cars have become more and more complex as they have adopted more sophisticated technology to keep up with the demands of customers.
In 1965 Gordon Moore, one of the founders of Intel, famously observed that the number of transistors per square inch on integrated circuits had doubled every year since integrated circuits were first invented. Moore predicted that this trend would continue for the foreseeable future – or 'Moore's Law', as it became known.
More than 50 years on, hardware description languages (HDLs) – a type of computer language used to describe and design electronic systems at the component, board and system level – are testament, as Moore suggested, to the ever-increasing complexity of modern circuits – and the need for a specialised language to design them.
Verilog, created by Indian-American researcher Prabhu Goel and English computer scientist Phil Moorby between late 1983 and early 1984, was one of the first modern HDLs. Verilog HDL is a hardware description language used to design and document electronic systems, allowing designers to design at various levels of 'abstraction'. It is the most widely-used HDL with a wide-ranging user community.
"In the 1980s, the US Department of Defense launched the VHSIC project, leading to advances in integrated circuit materials"
Verilog's major rival is VHDL (VHSIC Hardware Description Language), a hardware description language used in electronic design automation to describe digital and mixed-signal systems such as field-programmable gate arrays and integrated circuits. VHDL can also be used as a general purpose parallel programming language.
The latter language was a fruit of a 1980s US government programme to develop very high-speed integrated circuits. The US Department of Defense launched the VHSIC project in 1980, leading to advances in integrated circuit materials, packaging, testing, algorithms and lithography. The programme also created some early computer-aided design (CAD) tools.
A hardware description language looks much like a programming language such as C, a textual description consisting of expressions, statements and control structures. One important difference between most programming languages and HDLs is that HDLs explicitly include the notion of time.
Plastic injection moulding is favoured over other methods of plastic moulding for a variety of reasons: It is straightforward, consistent and extremely efficient.
Here are five key benefits to using this technique to manufacture parts:
Efficiency
Injection moulding is an extremely efficient method of producing a large number of identical products, both in terms of time and cost.
Once the mould itself has been designed, depending on the material used, it can produce hundreds of thousands of components. For large batches of products, the price per component drops significantly.
As the molten, liquid plastic solidifies in seconds, injection moulding is a very quick process.
Product Strength
Products produced using plastic injection moulding have a high tensile strength compared to other creation methods, such as 3D printing.
The liquid plastic forms a single product with no joints or layers that could be weak points from a certain direction.
Additionally, it is possible to add fillers to the injection mould. This reduces the density of the product during the moulding process, whilst simultaneously adding extra strength.
Complex Design
Injection moulding allows manufacturers to produce complex shapes that would prove too difficult and costly to assemble.
When the liquid plastic is injected into the mould, it is done so under a great deal of pressure. This forces the liquid plastic into every area of the mould. It is, therefore, possible to create intricate designs, confident in the knowledge that they will be replicated in plastic.
Co-Injection Moulding
A key benefit of adopting the injection moulding process is the ability to inject two different types of plastics. Co-injection removes any concerns about using a particular type of plastic for the entire product.
Automation
The injection moulding process is primarily conducted inside a machine. This means that a single operator, or robot, can control and manage the procedure. This helps to minimise costs. With the recent developments of the smart factory, the largely automated process means that injection moulding can become even more efficient with factories potentially being able to run 24 hours a day with little impact on the human workforce.
Injection moulding offers customers a great range of versatility and choice for their products and business requirements.
For more advice about 3D CAD and extensive range of our Products please call us on 1800 377 111 or email sales@essentracomponents.com.au
Data is essential to the engineering industry. Collecting and transferring data during manufacturing via automated information systems and processing is useful for many reasons. This data can be fed back into engineering, helping to improve quality, streamline manufacturing – and even benefit product design.
Information systems are crucial
Automated information systems range from software that tracks the receipt of raw materials right through to the shipping of finished goods. Software is also widely used during production for everything from tracking inventory to controlling manufacturing operations themselves. Today's information systems are flexible infrastructures that adapt themselves to the resources, products, business and decision processes of the enterprise.
"By sharing production data via the cloud Essentra Components is already working with customers to deepen their understanding of the manufacturing process"
Essentra's information systems
Essentra uses a range of information systems including Mattec, which feeds data to the production floor, telling the team which materials and tooling to use to run an order. Essentra also uses the Preactor system for customer orders and scheduling. The software will schedule based on most the productive ways of manufacturing, minimising tooling and reducing waste, and planning by material or colour, before production commences. The future may see automation of Essentra's ordering system matched against both production planning and the physical capacity to receive orders. 
By sharing production data via the cloud, Essentra is already working with customers to deepen their understanding of the manufacturing process, allowing them to make more informed and intelligent decisions about their products. Essentra Components also shares stock and future planning information with customers, ensuring complete transparency across the entire supply chain.
This is in tandem with the rollout of cloud-based planning software – SO99 – that allows the company to further collaborate with customers on demand forecasting.
By planning for a future that includes an increased role for automated information systems, Essentra will continue to ensure that data flows more readily down the entire supply chain.
Global giants base electronics operations in Singapore, Thailand and the Philippines to access skills, lower labour rates and establish networks with Japan and China.
Southeast Asia's reputation as a hub for the global electronics industry continues. It can be seen in the roll-call of top consumer electronics companies from around the world that manufacture in Thailand. This includes top European companies such as Philips and Electrolux; Honeywell and Western Digital from the US; as well as leading Japanese brands Sony, Nikon, Pioneer, Sharp, Hitachi and Toshiba, according to ASEAN (Association of Southeast Asian Nations).
From 20 to 50 per cent electronics exports
ASEAN comprises ten states, including Brunei Darussalam, Cambodia, Indonesia, Laos, Malaysia, Myanmar, the Philippines, Singapore, Thailand and Vietnam. Electronics account for 20 to 50 per cent of the total value of exports from most countries in Asia, the body says. Large quantities of consumer electronics, semiconductors and integrated circuits originate in Thailand, and more than 80 per cent of the world's hard drives are made in the ASEAN region. Seven of the world's top 20 chipmakers have bases in the Philippines, which has captured 10 per cent of world semiconductor manufacturing and supply.
Why set up shop in SE Asia?
Companies are attracted to producing electronics in the region because of lower labour costs. As companies and countries in the area have moved up the electronics value chain, labour-intensive work has shifted to lower cost parts of the region, such as Vietnam and Indonesia. Ultimately, Myanmar's economy is expected to provide a competitive base for labour-intensive electronics assembly thanks to its low cost base, says ASEAN. China and Japan benefit from proximity to this marketplace and its integrated electronics production and distribution networks.
Locating in Singapore
Among the Western giants to have developed operations in Singapore are aero engine-maker Rolls-Royce, consumer products firm Unilever, and even Lucasfilm – whose animation and visual effects specialists have been working on the island nation since 2005.
"Singapore's robust ecosystem, pro-business environment, geopolitical landscape and high-technology infrastructure enables Dell to bring the benefits of technology solutions to our customers in the Asia Pacific and Japan region."
US electronics firms Dell and IBM also have a long-term presence in Singapore. IBM has operated here since 1953, while Dell, one of the first companies in the world to sell custom-built computers to consumers, has its Asia Pacific headquarters there.Singapore has a pool of more than 141,000 information and communications industry professionals, supported by an established network of component manufacturers and logistics providers. "Singapore's robust ecosystem, pro-business environment, geopolitical landscape and high-technology infrastructure enables Dell to bring the benefits of technology solutions to our customers in the Asia Pacific and Japan region," says Amit Midha, president of Dell Asia Pacific and Japan.